The First Wi-Fi SoC Supporting National Secuity Algorithm
Security Features:
Support setting SM1 key, support SM1 encryption and decryption operation, support the national secret SM2 algorithm, import and export key pair, signature encryption and decryption, etc., which is in line with FIPS 140-2 standard and national business secret standard.
Embedded Wi-Fi Feature:
W510C1 is complying with IEEE802.11b/g/n international standard. Integrated by 802.11n MAC, baseband, RF, 32bit ARM core and TCP/IP network protocol. Built-in WAPI/WEP/WPA/WPA2 security co-processor. Supports PS 11e/WMM-QoS and PS low-power function. Provides SDIO/SPI/UART/GPIO/ I²C /ADC etc. device interface.
芯片内部功能示意图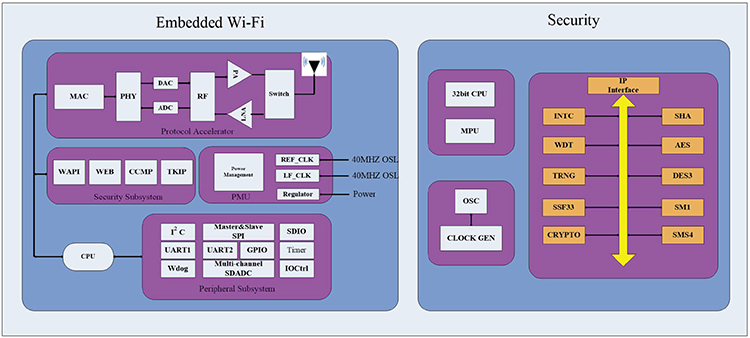 芯片封装
QFN88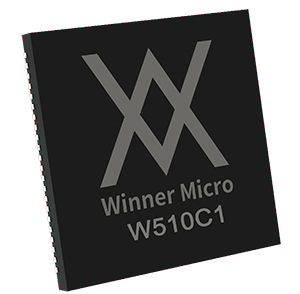 芯片特点
1、芯片集成 BBP/MAC ,集成RF Transceiver/LNA/PA/Switch 。
2、芯片内置安全算法协处理器 ,加解密对吞吐率无影响 ,并且不占用主CPU资源 。
3、芯片支持802.11 e/WMM QOS 标准 ,提供网络质量保证 。
4、芯片支持802.11 e-PS标准 ,提供多级低功耗保证 。
5、芯片可作为标准网卡方式工作 ,也可作为内置协议栈网卡产品工作 ,实现对主机资源零占用 。
6、内置高性能32位CPU ,支持无线传感器网路应用 。
7、超低待机功耗设计。
安全特性
支持导入对称密钥Key、导入初始向量IV、SM1 加解密、产生SM2 密钥对、导入导出SM2 公钥/私钥、SM3 Hash、SM2 签名/验签/加密/解密等。
1、公钥算法引擎
-1024bit RSA
密钥对生成:415mS/次@80MHz
解密/签名:12.1mS/次@80MHz
加密/验签:0.7mS/次@80MHz
-2048bit RSA
密钥对生成:3.14S/次@80MHz
解密/签名:71.5mS/次@80MHz
加密/验签:2.22mS/次@80MHz
-SM2 算法(素域256 位) @80MHz
生成密钥对9.68mS/次
N0_IDA签名10.7mS/次
N0_IDA验证20.3mS/次
2、对称算法引擎
-DES/3DES 支持ECB 与CBC 模式
DES 加、解密速度:11.07MB/S@32MHz
3DES 加、解密速度:4.64MB/S@32MHz
-AES 支持ECB 与CTR 模式
AES_128 加、解密速度:16.4MB/S @32MHz
AES_192 加、解密速度:14.53MB/S @32MHz
AES_256 加、解密速度:13.04MB/S @32MHz
-SM1 支持ECB 与CBC 模式
加、解密速度:19.52MB/S@32MHz
-SM4 支持ECB 与CBC 模式
加、解密速度:12.16MB/S@32MHz
-SSF33 算法
加、解密速度:18.8MB/S@32MHz
3、摘要算法引擎
-SM3
19.6MB/S @32MHz
-SHA-1/SHA-256
SHA-1: 17.2MB/S @32MHz
SHA-256: 20.8MB/S @32MHz
4、存储保护机制
-面向应用的存储分区,硬件支持各分区之间的安全隔离总线加扰。
5、真随机数发生器,符合FIPS 140-2标准和国家商密标准。
6、具备完善的对物理攻击的防护性。